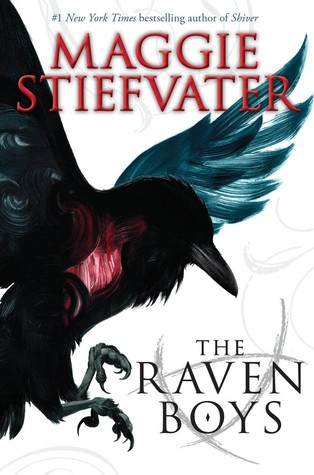 Blue Sargent isn't leading what you would call a normal life. Every year, she goes with her mother to a church yard to watch the soon-to-be-dead file past. Her mother and all of the people that live in her house have some sort of sixth sense but
Blue is outwardly mundane.
She has always been used like an amplifier, hiking up all of the readings that her family does around her but she is otherwise unremarkable. She has before never seen the dead in these night time visits but this year is different. A spirit of a boy shows himself to her and speaks to her before disappearing.
All her life, Blue has been told that if she kisses her true love, he will die.
She therefore has removed herself from feeling anything for anybody that isn't in her family. So when she finds out that this boy that she sees in the church yard is not only alive but also handsome, wealthy and from her town, she finds herself drawn into his world.
Just for reference, this is the sexy ass car
Richard Gansey lives the perfect lifestyle in all appearances. He goes to a private school where he is surrounded by other boys who live in the same way. He drives a
freaking sexy ass car
and his friends are strikingly loyal. An obsession drives him though and his life is not as simple as it might seem.
Gansey and his friends, Adam, Ronan and Noah, are all searching for something paranormal and Blue might be the one to help them find it. She helps amplify otherwise subtle paranormal events and once she gets to know the boys, she decides to help them against the wishes of her family.
Gansey, Adam, Ronan and Noah are all out to find the remains of a long dead king, one who can grant them wishes and bring them power. Adam is a determined scholarship student who hates all of the opulence that his friends are blessed with. Ronan is all black Irish and a dangerous fighter with a dark personality. Noah observes quietly and only speaks when necessary. Gansey is outrageous and persuasive and holds all of them together.
The only problem is that they are not the only ones searching for this king. And everybody else wants to be the first one to find him.
The Raven Boys
by Maggie Stiefvater is absolutely captivating. Her world building is superb and her characters are all well developed. So many times, these YA/NA fantasy/paranormal books are all about two characters and their relationship
only
. That is not the case with this book.
While there is a lot of emphasis on the relationship between Blue and Gansey, it isn't the only focus. Their romance is not simple mostly because there is none. It is a hidden attraction and the readers play this game of "will they or won't they" throughout the entire book. It isn't insta-love and it is not hot and heavy right from the get go.
It isn't really anything
when you think about it and that lack of distinction makes it unique.
Adam, Ronan, Noah and even such characters as Barrington Whelk have personalities and driving forces in their lives. Nobody is perfect in this. They are all wonderfully flawed and their flaws make sense. Adam doesn't like the opulence that surrounds them because he is ashamed that he doesn't have it. Ronan is angry because of what happened in his past. Noah has reasons for being the way he is as well and even the bad guys get their place in the spotlight.
This is how good books are written. I remember that one of the writing rules of Kurt Vonnegut. Everybody needs something and everything that happens moves the plot forward in a significant way. Nothing is wasted and the writing is beautiful for that.
If someone was to come up and ask you what this character was doing in the book and why, it would be easy to answer that. The suspense does not come from the characters' motivations but rather the search for something lost. I'm sick of books that withhold important character details just to be coy.
The Raven Boys
lays it all out flat and makes you accept that these characters are human and will act like regular people with fears and joys that we can connect to.
I honestly cannot wait to read the next book. I have a few ahead of it that I have to read or finish but it's on my list. This definitely makes my favorites list and it is one of the only truly suspenseful books that I've read in a while.
If you haven't read it, go out and get it.
Five stars all the way.