I hope everybody had a wonderful weekend! I spent the weekend and Mother's day at the lake with my parents, planting flowers, sitting one the dock and reading. I got terribly sunburned but it was worth it to be able to swim for the first time this season. The water was finally warm enough and since it's before Memorial Day, there wasn't a whole lot of boat traffic.
Musing Mondays
is a weekly bookish meme hosted by Jenn at
A Daily Rhythm
. Each week, there are a few prompts and you can pick which one to talk about!
I'm currently reading…
Up next I think I'll read…
I bought the following book(s) in the past week…
I'm super excited to tell you about (book/author/bookish-news)…
I'm really upset by (book/author/bookish-news)…
I can't wait to get a copy of…
I wish I could read ___, but…
I blogged about ____ this past week...
THIS WEEK'S RANDOM QUESTION: Do you have a "kindred" reading buddy — someone who very closely shares your taste in books? If not, do you wish you did?
I think, my next book will be The Fire Sermon by Francesca Haig. It just sounds too damn interesting and the cover is amazing.
Blurb from Goodreads:
When Zach and I were born our parents must have counted and recounted: limbs, fingers, toes. We were perfect. They would have been disbelieving: nobody dodged the split between Alpha and Omega.
Nobody.
They were born together and they will die together.
One strong Alpha twin and one mutated Omega; the only thing they share is the moment of their death.
The Omegas live in segregation, cast out by their families as soon as their mutation becomes clear. Forced to live apart, they are ruthlessly oppressed by their Alpha counterparts.
The Alphas are the elite. Once their weaker twin has been cast aside, they're free to live in privilege and safety, their Omega twin far from their thoughts.
Cass and Zach are both perfect on the outside: no missing limbs, no visible Omega mutation. But Cass has a secret: one that Zach will stop at nothing to expose.
The potential to change the world lies in both their hands. One will have to defeat the other to see their vision of the future come to pass, but if they're not careful both will die in the struggle for power.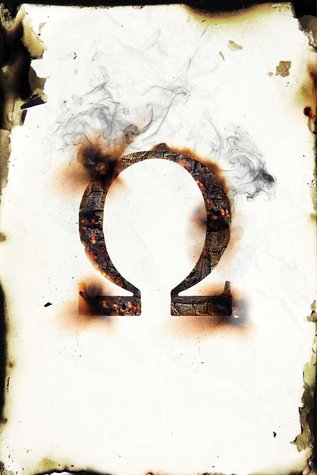 I mean, how good does it look without even words on it? It doesn't even need a title on it and I'm drooling over it. It reminds me of the Harry Potter posters that came out before the 8th movie where there wasn't anything on them except the release date but everybody was going crazy over them. As soon as I finish the two books I'm actively reading right now, this one is getting downloaded onto my kindle. I've seen it in bookstores and I have resisted up until now but I don't think I can anymore.
As for the random question, I don't have any friends around me that have similar reading tastes because mostly, I'm the only one I know that reads extensively. Online, of course, I have friends that I can fangirl with as well as disagree with and we get along fine. I wish that there were more people I knew that were readers but I have a feeling that a lot of readers feel that way but we're all at home...reading.
Book groups are fine and all but it would be so nice to have a friend who would be happy coming over and splitting a bottle of wine and not talking for a few hours just to read something good that just came out.
What about y'all? Leave a link to your post or post in the comments!