You know, so much of the time I feel like I'm just trying to keep up with what is going on around me and I completely forget to post updates or reviews. This past week has been crazy and I'm so looking forward to Memorial Day and having a chance to really relax for once.
Musing Mondays
is a weekly bookish meme hosted by Jenn at
A Daily Rhythm
. Each week, there are a few prompts and you can pick which one to talk about!
I'm currently reading…
Up next I think I'll read…
I bought the following book(s) in the past week…
I'm super excited to tell you about (book/author/bookish-news)…
I'm really upset by (book/author/bookish-news)…
I can't wait to get a copy of…
I wish I could read ___, but…
I blogged about ____ this past week...
THIS WEEK'S RANDOM QUESTION: What types of "special" books do you own? For example, do you have any really old books? Any collections based on your interests (eg. architecture, etc)?
So, right now I'm actually in the process of rereading a few books so I can finally finish a series. This morning, I finished Shatter Me which I've already written a review on and I started Destroy Me this afternoon, both by Taherah Mari. I loved the first book and the Warner novella that came after it but I just lost track of it somehow in the craziness.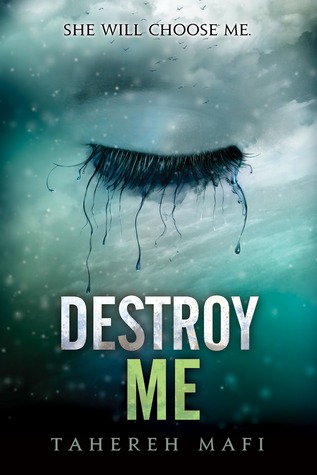 Hopefully by this evening, I'll be moving onto the next book Unravel Me and apparently there is even more Warner goodness in the next one so I'm really looking forward to it. I can't believe I haven't read this entire series yet!
Random Question Answer:
I have a lot of environmental books. In college, we read a fair amount of ethics books and essays about land preservation and they've kind of stuck with me. I love going through Aldo Leopold every once in a while and remembering why I am in the field that I'm in.
I also have all of my English anthologies and when I get bored or listless, I read through the poetry. I am trying to reestablish a relationship with certain authors that I used to hate but I'm now appreciating more. And I love reading my old notes and trying to learn more.
I'd love to hear some responses from y'all!
Much Love,